This past weekend found Tim and I at a small airport about 40 miles east of Albuquerque in Moriarty, New Mexico. The airport is known for being one of the best places in the country for gliders, but this weekend it had another feature – an event called "Missions at the Airport".
JAARS – which provides support for Bible translation through mission aviation and technology support, hosted the event.  A JAARS Helio Courier airplane flew in from North Carolina loaded with displays about Bible translation and the support services that JAARS supplies.  The Helio Courier is the type of plane that has been used for decades to provide aviation services for missionaries in remote locations and is well suited for short landings and take-offs.
During 3 day weekend, people came to visit the event and for $22 were able to take a flight in the Helio.  The Lord blessed us with (almost) perfect weather.  While we would have liked to see more people come through, we felt that God sent us some special people.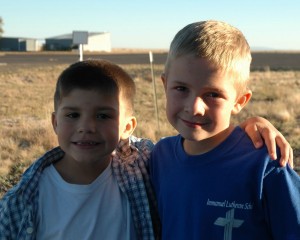 One story that touched my heart was a boy named Jordan.  A few weeks ago he told his mom that he wanted to become a missionary pilot and tell others about God.  His mom didn't know much about mission aviation but asked the principal of the Christian school Jordan attends, where they might find more information about it.  The principal told her there just 'happened' to be a special event coming up that would provide a great introduction.  Jordan and his friend along with their mothers came out to the airport.  They were able to find out lots about mission aviation and took a ride in the Helio Courier.  Even the moms were interested in learning how they could use their gifts and talents in missions.
Tomorrow we will be at another Missions at the Airport event about an hour north of Dallas and then here in Dallas over the weekend.  We look forward to seeing how God uses these events to help introduce others to the world of missions.